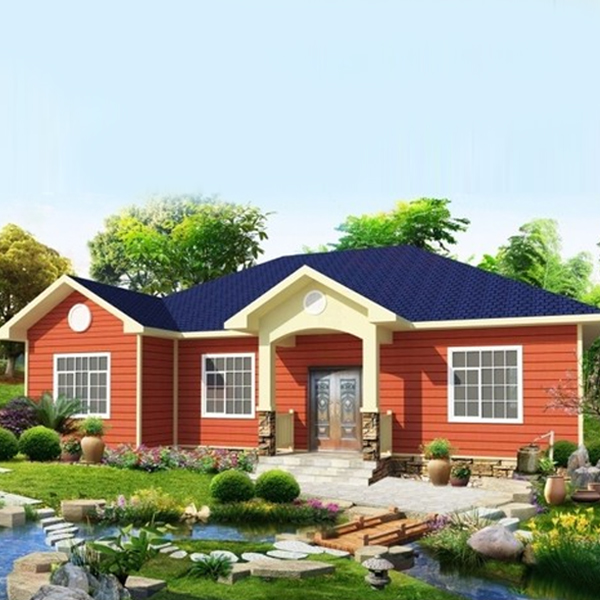 Light Steel Travel Holiday House V-1007W
Model:V-1007W
Unit area: 152㎡
House pattern: four rooms and two halls and two bathrooms
Building height between floors: three meters high
Site area: 14.4×11.5 m
PRODUCT Description
Model:V-1007W
Unit area: 152㎡
House pattern: four rooms and two halls and two bathrooms
Building height between floors: three meters high
Site area: 14.4×11.5 m
Building performance: wind resistance 、good earthquake-proof characteristics、anti-snow pressure、damp proofing、fireproof、warm in winter and cool in summer、energy conservation and environmental protection、high security、thermal insulation
Advantages:
1.Dry operations are not affected by the weather conditions.
2.The construction period is short,quick and easy.
3.Direct supply of factory materials,low project cost.
4.Professional design team,for you to design the right house.
5.Professional construction team,and transnational construction.
6.Beautiful appearance,to meet the personalized requirements of the building.
7.Fast transportation speed、the noisy of the construction is small,and less construction trash.
All the wall materials of light steel house is environmental protection and durable material,each kind of material passess strict quality testing,and different materals have different standards specificiations.After passing the strict inspection of the factory,and in the plant for test assenbling,making sure no error and then send the materials to the each construction site.Our company will adopt diferent export standards for different countries to create light steel villas,and we will also design diferent styles of light steel villas according to the various needs of customers,each layer of materials used in the light steel villas has its own unique properties and make sure the houses is beautiful、firm、durable and safe.
This house type is suitable for self-occupation、the scenery building 、homestay and theme hotel.The appearance of the villa is dark blue asphalt shingles、orange exterior wall hanging panel and cultural stone. The house type distribution left for the bedroom rest area,right for the living room activity area,dynamic and static separation,not to disturb each other.The dinning room has a small door for easy access to the back garden.The house type is suitable for 4-5 people to live.
Light Steel Construction-Quick_ Strong And Secure Solution To Your Construction Needs.
Light steel constructions are taking the world by storm! Whether it's a wish to live a more modest life, a way to decrease the housing costs, or simply considering the environmental impacts caused by the construction of large homes. light steel house constructions are becoming more and more popular with each passing day due to frozen housing benefits, lack of affordable housing, and crippling expensive rents. With the addition of budget-friendly housing, light steel house construction are safe for the environment as well. All over the world steps are being taken to reduce the carbon footprint to ensure a safe and healthy living environment for our upcoming generations. Steel being the most recyclable product reduces the carbon footprint by 80% thus being the top choice of the construction company and the buyers as well.
Foshan An-Mei Ji Light steel is one of the emerging light steel construction buildings company. At An-Meiji, we offer environment-friendly and budget-friendly light steel construction building material to construct buildings, villas, apartments, schools, farmhouses, etc. Structures made of light steel deliver superior acoustic and thermal insulation, which are safe from the drastically changing weather conditions. Steel is becoming increasingly popular as it provides several benefits over the traditional building material like steel structures offer strong resistance to winds fire, and earthquakes since steel are 21 times more flexible than timber and 10 times stronger than concrete. In addition to that steel also provides 600 years of durability, which is why insurance companies offer less premium as compared to metal buildings. Light steel construction provides superior living conditions as they are resistant to fungus, termites, and other pests as well.
Want to get away from the hustle and bustle of the big city and just spend some quality time with family or just want a place to unwind and relax. If yes! then you require a travel holiday house. A travel holiday house gives you the freedom of living on your own terms with a sense of privacy. At An-Meiji steel, we make a wide variety of budget-friendly light steel holiday houses, and the v-1007 has proved to be our best-seller so far. The travel holiday house is built on a site area of 4.4×11.5 m, and it has four cozy bedrooms, two broad halls, and two luxurious bathrooms making it ideal for a family of 4-5 people. The house has a very appealing exterior with its orange exterior wall hanging panel, blue asphalt shingles, and cultural stone, which gives the house a very welcoming feeling. The house has a very special layout keeping in mind the need for privacy. The bedrooms are located on the left side of the house, the right side is reserved for the living room area or just a place to spend some quality time and bond with the family. It also consists of a dynamic and static separation to guarantee privacy. A key feature of the house is that the dining room has a door that opens up in the back garden, which allows you to host backyard parties with ease. At An-Meiji, we have a highly talented design team that can customize the designs according to your needs, so you can build a holiday house according to your dreams, and our highly skilled construction and the translational team will provide on-site installation, so you don't have to worry about the construction process.
CONTACT US


Foshan An Mei Jie Light Steel House Co, Ltd.
We are always providing our customers with reliable products and considerate services.
If you would like to keep touch with us directly, please go to contact us